IRISYS Announces New State of the Art Equipment
San Diego, California – IRISYS has announced additions to it's commercial GMP manufacturing capabilities. IRISYS has long been known as the go-to CDMO for formulation development and clinical supply manufacturing. The company has been the proud single source manufacturer for multiple brand name and OTC commercial pharmaceutical drug products such as Donnatal®, an Rx product for irritable bowel syndrome. To meet the ever-changing demand of commercial pharmaceutical manufacturing, they have recently made significant investments in multiple new automatic types of equipment to expand their capabilities and increase throughput. Below are just a few shining examples to showcase the newest additions that have been up and running at IRISYS's cGMP facility located in San Diego, California, one of the hottest biotech hubs.
Automatic Syringe Filling Machine for Gel Dosage Form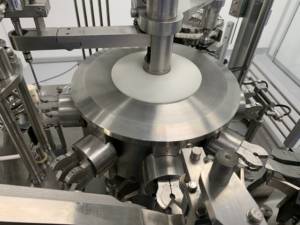 The filling line is fully automatic with multiple robotic arms for delivery of syringes to the filling station, syringe rectification, filling, capping, inspection, and release. It can also be used in combination with a powder filling machine, allowing manufacturing of dual syringe products. Together, the system delivers products with a powder-filled syringe and a gel-filled syringe which can be interconnected for instant mixing prior to drug application allowing single or multiple uses. It is an innovative way to increase shelf life for otherwise insufficiently stable dosage forms. 
To get a glimpse into how it works, watch the video below.
Automatic Serialization Equipment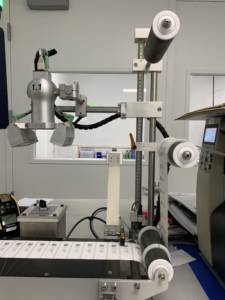 To reduce counterfeiting of pharmaceutical products, a new law has gone into effect for mandatory serialization by assigning a unique serial number to each saleable unit of a prescription drug which allows the capability to "track and trace". All commercial CMOs are now required to meet new serialization regulations.
IRISYS has risen to the challenge and invested in new serialization equipment. It has been successfully implemented throughout their packaging and labeling processes. This is in addition to several other automatic labeling machines at IRISYS. Company CEO and Founder, Dr. Gerald Yakatan states "With all these additions, we are very well positioned to help companies succeed under the new regulatory environment."
Automatic Thermoforming Blister Packaging Machine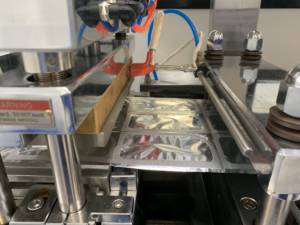 IRISYS has recently added a new custom-made blister packaging machine.  The machine with a thermoforming process automatically creates blister trays with a specific shape in a mold, fills capsules in the cavity and seals the blister, with all steps automatically completed without manual intervention. IRISYS has also announced that they've also added a separate testing unit that can check the proper closure of each sealed tray and reject the disqualified ones.
IRISYS can now meet the special needs of a unique manufacturing process for many more projects.  IRISYS is always eager to hear from you and your project.  They have made pharmaceutical products that have been used by patients around the globe. Stay tuned for updates on IRISYS's new equipment for clinical supply manufacturing and formulation R&D which is coming soon.
About IRISYS (irisys.com)
IRISYS was founded in 1996 to provide contract pharmaceutical product development and manufacturing services, specializing in formulation development,cGMP / GMP manufacturing of clinical trial materials and commercial pharmaceutical products, and strategic consulting related to the drug development process. IRISYS' custom approach to drug development is supported by the Company's scientific and regulatory experience in moving more than 100 drug products from discovery to clinical development and commercialization.