IRISYS LLC to Expand Aseptic Capabilities with SP Technologies High-Performance Robotic Filling Line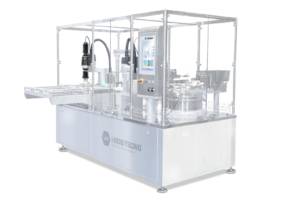 IRISYS, LLC, a pharmaceutical contract development and manufacturing organization (CDMO), announces the expansion of its aseptic filling and lyophilization capability with the addition of a fully robotic filling line.
IRISYS is in the process of installing an SP Technologies high-performance sterile vial filling system. The IRISYS new machinery will be ready for use in Q2 of 2021 and increase the output of ready-to-fill vials up to 7,500 – 10,000 production units a day. The new equipment is designed for both small to medium scale aseptic manufacturing under cGMP and, when installed, can fill vials from 2 mL up to 20 ml. Larger vials sizes are possible with change parts.
IRISYS' new equipment also increases its capability to lyophilize large batches of pharmaceutical-grade products, up to 7,500 10 mL vials, which is a massive advantage to our clients. Lyophilization of pharmaceuticals solves many of the complications that can arise in the manufacturing process, such as:
Storage issues – pharmaceuticals can be stored in a dry-state, potentially increasing shelf-life for many years.
Cost Savings – the storage of dry material is less expensive than liquid state drugs.
Temperature issues – pharmaceutical products can be freeze-dried without exposure to elevated temperatures.
Sensitive products – lyophilization is suitable for oxygen and air-sensitive drugs.
Lyophilization also enables the rapid reconstitution of products that must be returned to liquid form prior to dosing patients.
"With our new expansion comes the ability to take our clients from formulation to commercial manufacturing, streamlining the process at our 24,500 sq ft facility and saving our clients' valuable time. IRISYS' expansion of manufacturing capabilities ensures that our clients can scale-up when the time comes." Robert P. Giannini, Ph.D.  President and CSO/CTO, IRISYS, LLC.
Source: https://ijpsr.com/bft-article/freeze-drying-process-a-review/?view=fulltext